4th ATB Dnipro Marathon
Dnipro, Heroes of Maidan Square
32643
Date: 22 September 2019, Sunday
Time start: 09:00
Organizer:
Start Dnipro
Distances: 42km, 21km, relay race 2x21km, relay race 2x21km women, relay race 2x10km+2x11km, 10km, 5km, ATB Run 1.6km, 1,6км from 14y.o., 1000m kids from 11 to 14y.o., 500m kids from 7 to 10y.o., 100m kids from 2 to 6y.o.
Results
Registered: 3995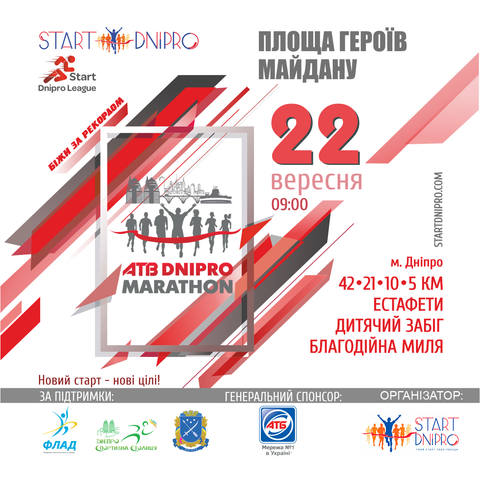 September 22, 2019 in the Dnipro 4-th ATB Dnipro Marathon will be held.
This will be the fourth marathon, which will be held in 2019.
Each amateur can run one of the distances: 42 km, 21 km, 10 km, 5 km, mile and relay races, children's races.

The marathon runs in one round and includes a picturesque promenade, which is the longest in Europe.
It is exactly a smooth track, without differences in altitude in one circle, so liked the participants of the first eco-marathon and will allow you to set records in 2019.
The prize fund of the competition, as in 2018, will be high and unprecedented for such competitions in Ukraine.
The start and finish of the marathon will be held at the Heroes Square in the center of the city.
Are you running away ?!
Rules of the competition: https://u.to/QRlbFg
More information https://dnipromarathon.com/
Question about registration on the event: registration@startdnipro.com
Tel .: (093) 0594102 Al'bina